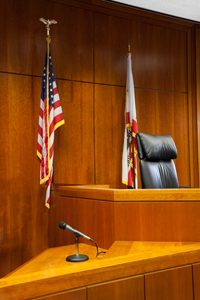 Medical expert witness testimony is essential to all medical malpractice legal proceedings. Usually, without a medical expert, plaintiffs cannot proceed to trial, and defendants are usually doomed to an adverse jury verdict. Medical experts are recruited in many ways, even from proprietary companies who offer a diverse variety of experts.
Many professional organizations, including the American Academy of Family Physicians, have recommended guidelines concerning expert witnesses, including:
It is the responsibility of the physician expert witness in a medical liability case to present complete and unbiased information.
The physician expert witness should not become an advocate or a partisan during the trial and, to the extent possible, the testimony presented should reflect the generally accepted standards within the specialty or area of practice.
Prior to testifying, the physician expert witness should become familiar with the facts of the case and the medical standard at issue and should review and understand both the current concepts and practices related to that standard as well as the concepts and practices related to that standard at the time of the occurrence that led to the lawsuit.
Compensation to physicians who testify as expert witnesses should be reasonable and commensurate with the time and effort involved in fulfilling the physician's responsibilities as an expert witness.
In this time of shrinking fees and increased costs, physicians are debating if they should offer their services as a paid medical expert. Many questions arise when considering this path. The Doctors Company has challenged this matter with a few questions that can be beneficial when evaluating this option. Among them are:
Do you have sufficient flexibility in your schedule and patient coverage support to be able to appear in court when required?
Is the case simple, or will you need to review voluminous medical records, meet with the attorney repeatedly, give a lengthy deposition, and spend hours in court?
How well do you verbally spar without a script, and how do you handle the stress of being challenged in front of a room of spectators?
Could your testimony be used against you at a later time?
How well will you deal with pressure to enhance your opinion, to be more critical or supportive of other providers' care, or to venture outside your area of expertise in order to help the defendant's or plaintiff's case?
Usually your professional liability policy will not cover you for functioning in the role of a paid medical expert witness. Thus, prior to making a decision you should contact your insurance advisor to determine if coverage exists for this risk or if you will need additional placement.
The decision is yours. Proceed with caution.
Bill Gompers is a medical malpractice insurance specialist agent with Danna-Gracey. He can be reached at or (888) 777-7173 or Bill@dannagracey.com.