Fine Art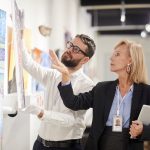 The Risk Strategies Fine Art Practice is committed to keeping the arts alive by ensuring you have the right protection for your artwork. Our entire team is deeply invested in the industry with backgrounds in the arts, therefore, we're uniquely qualified to find the right insurance plan to fit the needs of personal and corporate collections, museums, art dealers, artist-endowed foundations, appraisal firms, fine art warehouses, artists and all of the various coverages associated with art world clients.
Industry Insight
Artworks are meaningful assets for everyone from artists, collectors, foundations, historians and museums, to the general public. That's why our team of experts is dedicated to offering valuable solutions to ensure that each piece and your business is protected from any known or unknown risk, including:
Contract issues including loan and consignment agreements
Foundation asset protection including consideration for aligning insurance limits with the board's fiduciary responsibility
Protecting museums' permanent collections and incoming loans, reviewing contracts in an effort to protect the cultural heritage of the items in your care
Risk management and insurance considerations for the unexpected challenges of climate change, estate plans, legacy protection and more
Solutions and Capabilities
Our team offers multinational companies, small businesses and individuals specialized solutions because we understand the importance of proper insurance and simple, hassle-free risk management.
Loan and consignment agreement reviews for contract requirements
Risk management plans for foundations and museums including catastrophe-prone locations, hazard prevention plans, and other specific assistance
Collaboration with colleagues to provide competitive prices for museum and foundation programs including fine art, property and casualty and more – all through one firm
Policy valuation that protects the specific client's needs
Holistic in-house claims process
Artist coverage options to include the cost of restoration or reprinting, fabrication costs or other valuations tailor-made to the artists' needs