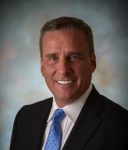 By Vanessa Orr
For the last 13 years, the Florida malpractice insurance industry has remained relatively soft, which is good news for physicians and medical practices. Unfortunately, the days of lower premiums, discounts and credits are slowly disappearing.
"We haven't seen a hardening market since 2002-07, and back then, it was really bad," explained Medical Malpractice and Workers Compensation Specialist Tom Murphy at Danna-Gracey. "There were roughly 50 malpractice carriers offering coverage to doctors at that time, which dwindled down to four or five. Companies either closed or got bought up by larger carriers."
Despite the fact that voters approved tort reform in 2004 that included a cap on non-economic damages, in 2016, that decision was reversed by the Florida Supreme Court. That, and the fact that claims and lawsuits have increased over the last two to three years, has taken a toll on carriers who are now running combined ratios over 100.
"In the malpractice world, the 'combined ratio' is the litmus test for how carriers are doing," explained Murphy. "If they're running anything under 100, the companies are in the black and making a profit.
"For the past few years, a number of what we call 'shock losses' have occurred, with judgements in excess of $10 million dollars," he continued. "That hastens a hardening market."
According to Murphy, all major carriers are now running combined ratios in excess of 100, which will trickle down to affect premiums. "This will also change underwriting guidelines, with companies no longer giving credits or discounts while slowly raising rates," he said. "The difference between this hardening market and the 2002 market is that the last one happened suddenly and painfully. Carriers waited too long to raise rates, waiting to see who would jump first."
Murphy gives the example of a large physician carrier, who raised rates on specialty practices by 80-90 percent. "Physicians who were paying a $10,000 premium were now paying $18,000 in the space of one year," he said.
The smart carriers did learn that lesson, and have socked away profits in reserves over the intervening years so that they don't need to raise rates quite so dramatically.
"Most of the good, financially strong physician carriers, which are the ones we work with, are raising rates—3 percent last year, 5 percent this year," said Murphy. "However, some companies arehaving to institute larger rate increases of 10-15 percent as a result of poor underwriting performance and massive shock loss claims. One major physician carrier just experienced a $35 million judgement."
The good news, at least in the longer term, is that the Florida Supreme Court has changed over the past three years, so the current court might support tort reform if the issue can be reintroduced. In the meantime, physicians need to carefully consider their options.
"When premiums go up and become unaffordable, some physicians 'go bare' or self-insure," said Murphy. "Because they are practicing without professional liability insurance, this has the effect of passing along higher premiums to physicians who purchase insurance."
Murphy recommends that physicians still insure with a strong financial malpractice company that will stand behind its physicians.
"Some people will look for the cheapest carrier, but this is probably the most important insurance you can buy," he said. "A smaller, undercapitalized company will settle a claim and pay a smaller amount versus defending a client for as long as it takes—and in the end, what's more important than your reputation?"