FORPG… Harness the Power of the Orthopaedic Community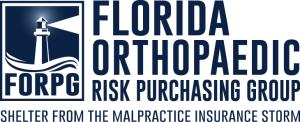 The Florida Orthopaedic Risk Purchasing Group (FORPG) has changed the way Florida orthopaedic surgeons purchase their malpractice insurance. The formation of the FORPG sent shockwaves throughout the malpractice insurance industry, saving Florida orthopaedic surgeons an estimated $9 million the first year alone. Founded in September 2008 by the Florida Orthopaedic Society (FOS) and the Bones Society of Florida (BSOF), the FORPG is governed by an independent board composed of representatives from both societies.
Think Unity
There are more risks associated with "going it alone" than with purchasing as a group. If your practice suffers a paid loss, then not only will your malpractice costs likely increase, but you will also have fewer options to negotiate for better coverage and rates long into the future.
Medical Malpractice Insurance
The flagship program of the FORPG, the Medical Malpractice Insurance Risk Purchasing Group is second to none. Insuring over 330 Florida orthopedic surgeons and physicians, the FORPG offers discounted premiums, as well as free web-based and live CME, free retirement tail coverage (vested after one year with TDC), and the Tribute® Plan, an unrivaled financial career award, recognizes doctors for their loyalty and commitment to the practice of good medicine.
Members of the FORPG Program are insured through The Doctors Company. Founded and led by physicians, The Doctors Company is committed to relentlessly defending, protecting, and rewarding the practice of good medicine. With 78,000 members and $4.3 billion in assets, The Doctors Company is the nation's largest physician-owned medical malpractice insurer.
However, the program is about more than just good rates. Leaders of the FORPG have also established peer committees to assist its members:
Claims Review
Orthopaedic leaders from around the state review with The Doctors Company on an anonymous basis, each and every claim against any of the member insureds. These discussions result in the identification of key medical and legal issues of each claim, the most appropriate expert witnesses, and strategies for the best defense.
Risk Management
The FORPG has established a Risk Management Review Committee to change the risk profile of our members. This committee is responsible for working to reduce the risk of claims against the FORPG members. Best practices are distilled from interested members and groups, the FORPG's insurance advisors and TDC, as well as extensive literature. Efforts by leaders from around the state, in partnership with TDC, have resulted in orthopaedic specialized risk management techniques that all members are encouraged to follow.
Workers' Compensation Insurance
Did you receive money back on your workers' comp premium last year? Many doctors have through the Florida Orthopaedic Society Workers' Compensation Program. Since the rates for workers' compensation insurance are set by the state, prices are the same no matter where you secure coverage. In this exclusive program for FOS members, you could be eligible for a dividend on your premium of up to 30%, which effectively reduces the cost of coverage. For example:
$10K premium could return a dividend of up to 30%, or $3,000
$5K premium could return a dividend of $1,500
$2K premium could return a dividend of $600
Other programs may offer similar dividends on an individual basis, but our program is based on the group's experience and not the individual's experience. This provides a better chance to not only receive the dividend, but to receive a higher dividend.
AmTrust North America has been a true partner to the Florida Orthopaedic Society for many years, and now, with the resources of AmTrust – rated "A" (Excellent) by A.M. Best – we are able to provide this exclusive enhanced dividend program that is like no other for Florida physicians and medical practices. To date, these programs have given back over $8 million in dividends to Florida medical society members insured through these programs.
Additional Coverage Options
The Florida Orthopaedic Risk purchasing Group Board of Directors is extremely pleased to announce the addition of several new risk-avoidance insurance coverages that are now available to it's members. Through the power of strength in numbers, we are now able to offer a collection of options designed specifically to protect your practice from the modern day threats you face every day, threats like cyber security, ransomware, RAC Audits, sexual harassment and retaliation claims from patients and disgruntled employees, HIPAA violations, online reputation repair, Board of Medicine investigations, billing errors, and more.
The following are the available new enhanced offerings, with a brief overview of what is covered:
Cyber Security Insurance
Our proactive cyber coverage is both innovative and very comprehensive. It not only covers your practices' liability for a data breach in which personal information, such as health records, Social Security, and credit card numbers are exposed or stolen, but it also provides a comprehensive suite of complimentary tools designed to keep your practice one step ahead of cyber threats.
Comprehensive Coverage: Coverage options include a variety of expenses associated with data breaches, including notification costs, credit monitoring, costs to defend claims by state regulators, fines and penalties, cyber extortion, business interruption, and loss resulting from identity theft.
Awesome Prevention Tools: Included with your policy at no additional costs are proactive apps that are designed to protect your practice from cyber threats, including:
Credential Monitor – Alerts your practice when an employee's password or identifying information is stolen and may be used by a hacker.
Ransomware Prevention – Anti-ransomware software protects your business against 99% of known ransomware.
Patch Manager – Passively scans your internet-facing infrastructure for out-of-date software and vulnerabilities.
Threat Monitor – Combines threat intelligence and analysis to mitigate the likelihood of a breach before the damage is done. This includes passive monitoring for signs of phishing activity, anomalous network and DNS activity, domain monitoring, and other indicators of breach, as well as practical advice for how you can protect your business.
Employment Practices Liability Insurance
Employment Practices Liability Insurance (EPLI) addresses management liability issues including sexual harassment, discrimination, wrongful termination, retaliation, employment disputes, and other risks faced by employers.
In addition, policyholders gain access to risk management services, including consultation from employment law firms, online employment reference manuals, and other offerings to help minimize liability risk.
Regulatory Billing Errors & Omissions Insurance
A single Medicare audit can bankrupt a healthcare practice. Anyone can make a mistake, fail to complete a transaction, fail to file a claim on time, or simply make a bookkeeping error. Our medical billings errors & omissions and regulatory defense policy provides first-party coverage for defense costs and regulatory fines or penalties resulting from actual or alleged billing errors. Coverage is applicable for claims brought by entities including, but not limited to, government agencies and contractors, Qui Tam plaintiffs, and commercial health insurance payers.
The policy also provides coverage for regulatory actions involving:
Billings Error Proceedings
Health Insurance Portability and Accountability Act (HIPAA)
Physician Self-Referral (STARK)
Emergency Medical Treatment and Active Labor Act (EMTALA)
This important coverage also includes an expert audit defense team as well as tools to assist to prevent and mitigate risk.
During this unprecedented soft market, you may be able to find rates equal to what the FORPG is able to offer… but don't be fooled… what the other carriers offer is not equal coverage. No other carrier can boast a true partnership with your professional association. No other carrier can deliver the same scientific expertise in claims review and risk management. You want coverage that harnesses the power of the orthopaedic community. The clear choice for the orthopaedic profession is the Florida Orthopaedic Risk Purchasing Group.
"I just wanted to let you know how pleased we are with the RPG. As the result of our affiliation with the RPG, our savings will be approximately $39,000 for the year. It is highly unusual to see a reduction in insurance premiums, much less a substantial savings such as we are receiving. This is a $13,000 savings for each of the three managing partners. In these difficult times, it is nice to know that we have people working in the best interest of the physicians."

– Patti L. Wolf
Administrator, Florida Musculoskeletal Institute